Starting school is a significant event in the life of children and their families. Strong relationships and information sharing between families, early childhood settings and schools help support a child's successful transition to school. (NSW, DoE)

At Kiama Public School, Transition to School events are held throughout the year to build strong connections between families, early childhood settings and the school to support all new students in developing a strong sense of belonging.
Enrolment 
Families with a child who will be starting Kindergarten in 2024, can contact the School's office for information or to collect an enrolment form. Enrolments are also accepted online: https://ehub.enrol.education.nsw.gov.au/schoolenrolment/?schoolCode=2293
All children must be in compulsory schooling by their 6th birthday. 

Children can start kindergarten at the beginning of the school year if they turn 5 on or before 31 July that year. 

Students should start school at the beginning of the school year. 
Please seek advice from the school or your child's Early Childhood Education Centre if you are unsure about school readiness.
Application to Enrol: https://education.nsw.gov.au/content/dam/main-education/public-schools/going-to-a-public-school/media/documents/enrol-k12.pdf
Transition to School Events for Kindergarten 2024

We know that giving future students every opportunity to prepare and become comfortable with their new school environment, teachers and classmates is an important part of the transition to school process. Kiama Public School hosts a number of events to support families, and children starting school, with the transition to school process.

Preschool Park and Play
During Term 3, Kindergarten students are invited to visit our school playground for a chance to meet other children starting school. These events will be held on Thursday afternoons between 3:15 pm and 4:00 pm. This is an informal event where families can families can be alongside their child/ren as they start to familiarise their child with the school setting and socialise to support building connections.
Dates:  3 August, 17 August, 31 August
Family Meet and Greet Picnic 

During Term 3, the school hosts a meet and greet picnic. This is a chance for families with children starting school to visit the school grounds and connect with other families. Members of our Kiama Public School community including the P&C, Canteen, Uniform services and other inter-agencies will be there to provide information. 
Dates: Thursday, 19 October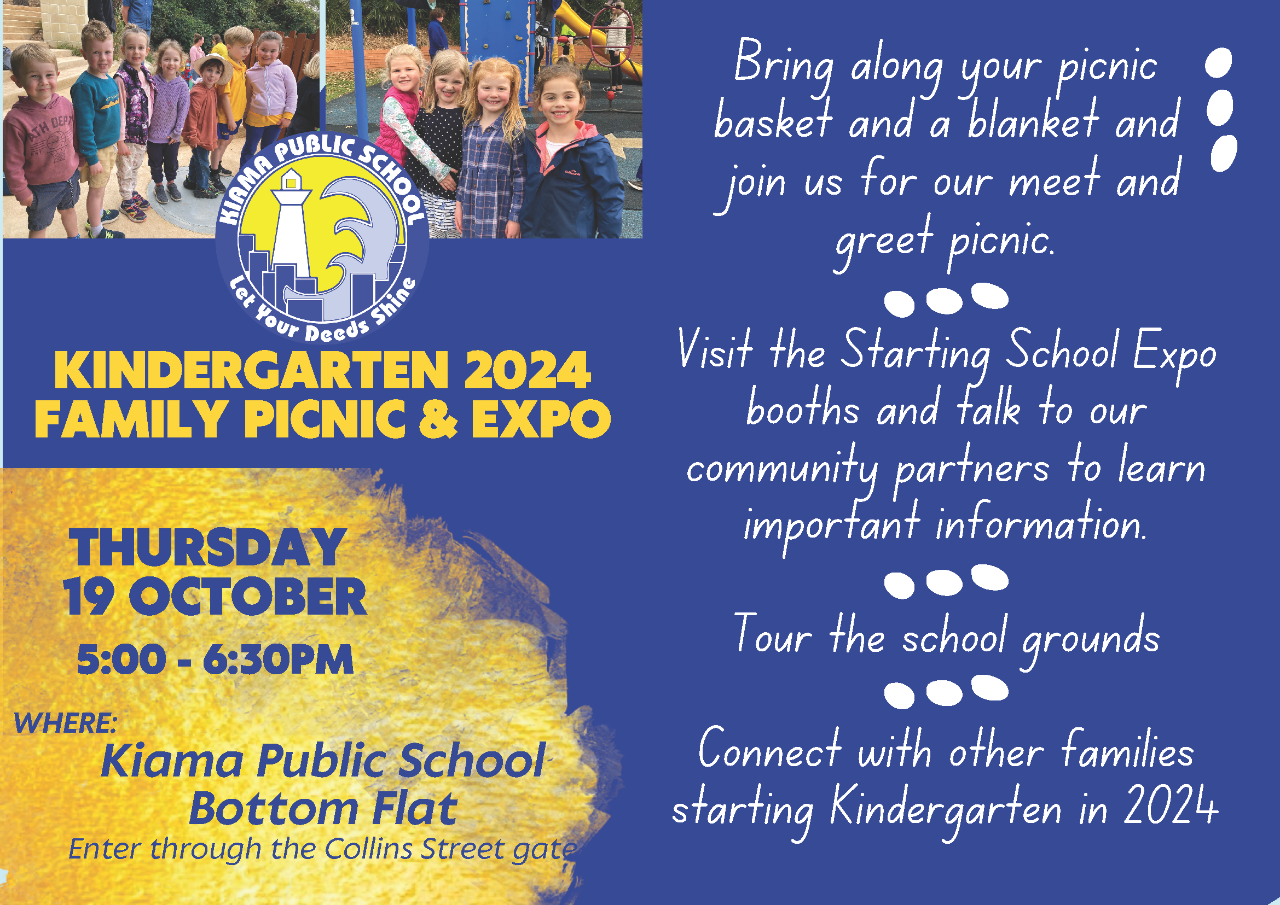 Parent Information Night
Our Parent Information Night provides valuable information about the facilities and programs at our school and is an opportunity to meet some of the key staff who will be working with your child. This event will provide additional information about our upcoming Kinder Orientation events and also offer a chance to visit the Kindergarten classrooms.
Date: Monday, 11 September 6pm
Kindergarten Enrolment Interviews

Each family will have a scheduled interview to discuss their child's transition to school. Each student will also receive a blue book bag with an information pack inside at the interview. These book bags are donated by the Kiama Public School P&C and will be used at school to share notes and homework for your child.
Dates: Term 4, Week 4. 30 October – 3 November
Kinder Playgroup
Several playgroups will be held throughout Term 4 for our new Kindergarten students. It is a great opportunity for children to meet each other and to familiarise themselves with the school setting.
Dates: Tuesday, 24 October; Tuesday, 31 October; Tuesday, 7 November; Tuesday, 14 November
Kindergarten Transition to School Class Dojo Posts
Throughout Term 4, Kindergarten families will receive Class Dojo posts with videos and information about our school, staff and greater school community. This will be one main avenue for sharing information about starting school.
These posts will provide a platform for sharing information about any upcoming events, getting ready for school tips, a snapshot of our school and staff and information about community services that support the school. We also encourage families to join the School Bytes app.
KPS Social media
KPS uses social media to connect with out community. Join our school community Facebook page 
Kindergarten Orientation Sessions
Orientation sessions are held for students and their parents. During these orientation sessions Kindergarten students will participate in classroom activities with our current Kindergarten students and student buddies from Stage Three. Parents may have the opportunity to attend workshop sessions about starting school and school procedures, dependent on Department guidelines for school events at the time.
Dates: Tuesday 21 November; Wednesday 22 November; Thursday 23 November
Kindergarten Special Assembly

A special assembly, hosted by our current Kindergarten students, will be held for our incoming students.
Date Friday 24 November
Best Start Kindergarten Assessment Bookings

Best Start Kindergarten Interviews will be scheduled by families via the School Interviews booking platform. 
Learn more about the Best Start Kindergarten Assessment here.
Wednesday 22 November until Friday 8 December
Additional resources
The following resources may be helpful in getting your child ready to start school.
Getting ready for primary school (PDF 2.8MB) - a booklet with tips and checklists to help parents prepare their child for Kindergarten.
Daisy's First Day (PDF 5.5MB) - a children's book about Daisy the koala on her first day at primary school.
NSW Foundation Style writing guide (PDF 116.46KB).
Is my child ready for school?
Starting school is such a big step. How do I know if my child is ready?
The NSW Department of Education parent website School A to Z has spoken to a range of teachers about how to make the right decision for your child. Here are some of the key points and questions to ask:
Children may enrol in Kindergarten at the beginning of the school year if they turn five years of age on or before 31 July in that year.
All children must be enrolled in school by their age of 6.
Are they physically ready?
Are they socially and emotionally ready?
Children don't need to read or write before they start school.
Visit your local school and attend orientation days before you decide.
Go to the NSW Department of Education A to Z enrolment link for more details.
Applications for enrolment are available at the school office. Please ensure you have completed our 'Prospective enrolment' form so that we have your details and can send you any relevant information.